Developing RV and Boat Storage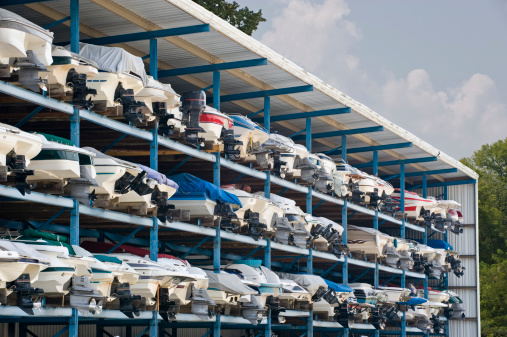 Offering recreational vehicle (RV) and boat storage can be a great way for self-storage owners to expand their business and increase their revenue. To successfully build these units, you must know the specific requirements for RV and boat storage development.
How to Build RV and Boat Storage Facilities
There are three types of units you can build for RV and boat storage:
Open units: An open storage unit is essentially an outdoor parking spot. These spaces must be paved and marked clearly. They may also include an overhead canopy to reduce sun exposure.
Three-sided units: Add sides and a back wall to a covered space for protection against the elements without the expense of adding doors.
Fully enclosed units: Fully enclosed units provide the best protection from the elements and reduce the risk of theft.
Boat and RV Storage Facility Development Considerations
When you're developing a site for RV and boat storage, you'll need to account for several unique features, including:
Extra space: You'll need significantly more room for RV and boat storage than you would for traditional self-storage units. Besides the units themselves, you'll also need driveways that are at least 50-feet wide to back the vehicles in and out of their spaces.
Safety features: Use bollards to create a protective perimeter and visual guide for tenants maneuvering their RVs and boats around your facility. Consider adding more security cameras, fences, gates and lighting to make your facility more secure, especially if you have a lot of open units.
Driveways: Most RV and boat storage driveways are made of asphalt. Gravel is an inexpensive option, but it can be dusty and may be prohibited in certain locations.
Electricity: RV and boat storage units with electricity are extremely attractive to customers who need to charge their batteries.
Amenities: RV and boat owners may also appreciate amenities like a water supply, compressed air and a dump station.
Zoning Requirements for Vehicle Storage Facilities
Keep in mind that zoning requirements for vehicle storage facilities differ from traditional storage. You'll need to check your local zoning regulations to determine if outdoor storage is permitted on your land and whether there are any fence requirements.
Learn More About Self Storage Zoning
Unit Mix With RV and Boat Storage
The right unit mix for your RV and boat storage facility depends on your specific market. Generally speaking, you can maximize space by offering more rows of open and covered spaces than large, enclosed units. If you can, build in phases to verify you're using the right unit mix.
Traditional self-storage owners often add RV and boat storage units to their existing facility to attract new customers without the expense of building an entirely new facility. When adding these units to your facility, consider ways to maximize your existing space. For example, adding RV and boat units near driveway intersections or at the ends of buildings can help you create large spaces without building extra-wide units.
Get Help From Investment Real Estate, LLC
Not sure if developing RV and boat storage is right for your business? Get in touch with IRE for an objective feasibility study to determine your project's viability.